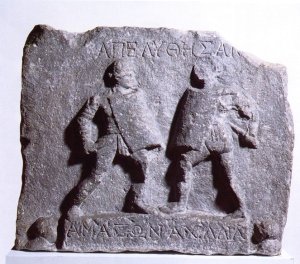 For students who can't wait for today's lecture on the Roman arena, why not have a look at this article on a possible grave find of a female gladiator discussed by Steven Murray in the
Journal of Combative Sport?
Or a short article in Discover Magazine about
archaeologist Steven Tuck's research
into death in the arena?
Read both articles and come to lecture and you'll have a "Steven hat-trick."
Image:
from the JCS article, two female gladiators, Amazon and Achillea.