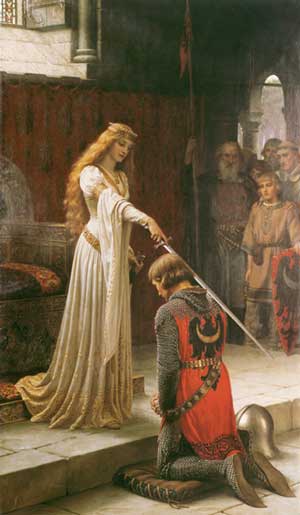 From James A. Schultz's 2006 book,
Courtly Love, the Love of Courtliness, and the History of Sexuality
, page 80-1:
In what follows, I will show that nobility is an attribute of bodies, that it is visible, and that visible nobility provokes love.…

The heroes and heroines Middle High German romance can hide their individual identity, but it is impossible for them to hide their noble identity. Their bodies give them away...

When Oringles comes across Enite,... [he] has no idea who she is. This much, however, he can tell "she is in truth a noble woman: that is proved by her most beautiful body."...

Just as the beauty of bodies incites love, so does the nobility of bodies, of which their beauty is an unmistakable index. Meinloh is devoted to a woman he has not even spoken with because "my eyes saw the absolute truth: she is noble and beautiful."
Page 91:
Courtly lovers do not respond to a sexy body or to an engaging personality or to a mere display of wealth. They fall in love with an ideal of courtly nobility. This ideal presents itself as a single image that combines a noble body, courtly virtue, splendid clothing, and the visible mastery of courtly skills. When someone susceptible to these qualities sees them realized in the highest form, that person is taken aback, is captivated, and falls in love.
Image:
The Accolade, by EdmundBlair Leighton.