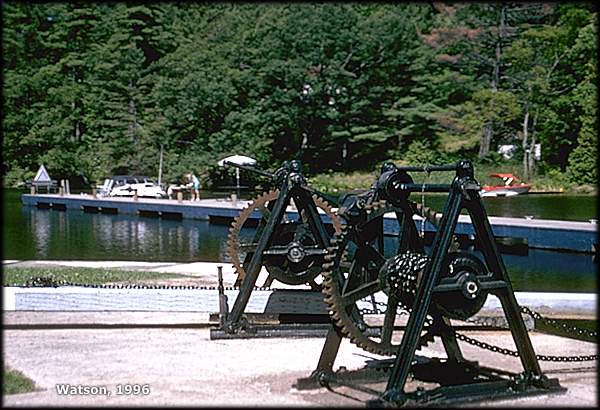 Not to mention engineers.
I'm talking Colonel By, children.
There is a World Heritage site in the province of Eastern Ontario that most Canadians are oblivious to -- the Rideau Canal that connects Kingston on Lake Ontario to Ottawa on the Ottawa River. It was built in the 1820s and 30s as a military route that would be less vulnerable to American attack. The job was entrusted to an English army engineer who accomplished the task of connecting lakes and rivers with canals and dams, thanks to the efforts of many navvies (= "navigators"), in short order (only to find himself being investigated for overspending).
And it is still all there in all its 19th century glory!
All but three of the locks are worked by human beings turning iron cranks by hand. One of the explanatory signs canal-side calls this "brute force," but really there is nothing brute about it. The locks are so well-engineered that they move quite elegantly, and it really doesn't look like that much work -- though I am sure that it builds core strength in the university-age people who are there for the summer season.
In lovely contrast to the iron, timber and stone tech is the landscape that it goes through. Parts of the canal system goes through intensively cultivated areas, but lots goes through what almost looks like wilderness. Only very occasionally do roads cross the canal, and so if you are on a boat you feel like you are in a world apart from busy 21st century Canada.
Image:
Crabs or hand winches at Davis Lock; photo thanks to Paul Watson.