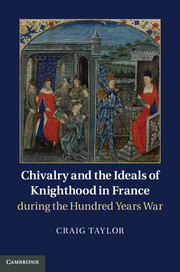 I just ran across
a reference to this book
in the last few days, so this is not a review. I know Craig Taylor and I consider him a very intelligent historian, so I expect this will be a valuable book. Here is what Cambridge University Press has to say about it:
Craig Taylor's study examines the wide-ranging French debates on the martial ideals of chivalry and knighthood during the period of the Hundred Years War (1337–1453). Faced by stunning military disasters and the collapse of public order, writers and intellectuals carefully scrutinized the martial qualities expected of knights and soldiers. They questioned when knights and men-at-arms could legitimately resort to violence, the true nature of courage, the importance of mercy, and the role of books and scholarly learning in the very practical world of military men. Contributors to these discussions included some of the most famous French medieval writers, led by Jean Froissart, Geoffroi de Charny, Philippe de Mézières, Honorat Bovet, Christine de Pizan, Alain Chartier and Antoine de La Sale. This interdisciplinary study sets their discussions in context, challenging modern, romantic assumptions about chivalry and investigating the historical reality of debates about knighthood and warfare in late medieval France.
And in the grand tradition of overcharging outrageously for academic books, this one even in e-book format goes for $79 US !
I am rather sorry I didn't have a chance to see this before I published
Charny's Men at Arms,
but in fact my book was essentially finished a year ago. Would it have made a big difference? No. My book is a tightly focused study, Taylor's a much wider one. But if it were a reasonable price I would own this book already.
Note that mine costs only $25.